Headache Clinic, Neuroscience Center at Bangkok International Hospital cordially invites physicians and medical personnel to attend the virtual meeting.
The 8th Essential in Headache Medicine 2022
Date: Friday 25 March 2022
Time: 08.30 a.m. – 04.00 p.m.
*Participants will be obtaining certificate and CME 6 credits"
Registration fee 500 THB/participant.
Payment can be transferred to:
Account name: Bangkok Dusit Medical Service PCL
Bank: Bangkok Bank, Rama 9 branch
Account number: 215-0-32497-4
Registration will be closed on 23rd March 2022.
For more information, please contact 02-310-3000, ext. 791642
Email: [email protected] 
Online registration and attach payment slip via : https://docs.google.com/forms/d/e/1FAIpQLSeo3fQEi2R5isMOgBhk9oYG3iz1tqU6FgvTjgWYOYvUhXOB0w/viewform
---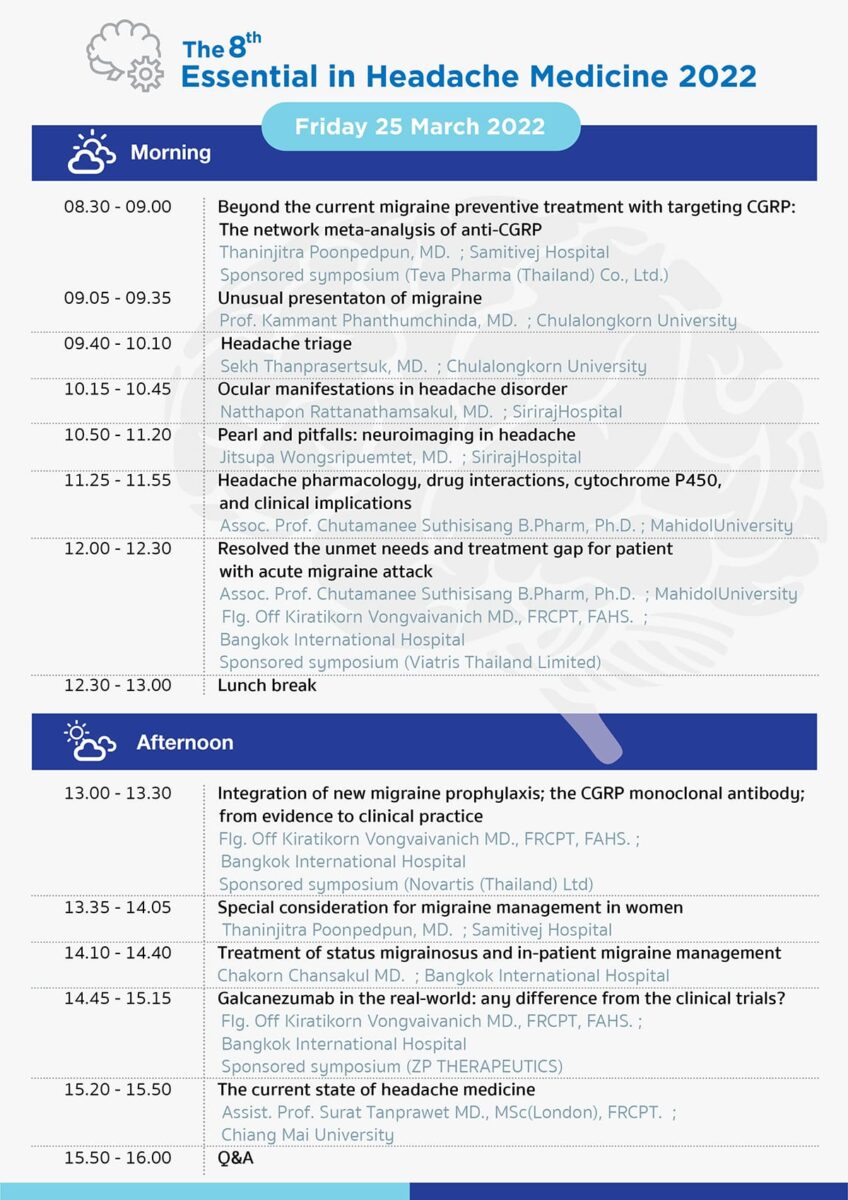 ---
The 8th Essential in headache medicine
Friday 25 March 2022
Morning

08.30 – 09.00

Beyond the current migraine preventive treatment with targeting CGRP
: the network meta-analysis of anti-CGRP 

Thaninjitra Poonpedpun, MD.  ; Samitivej Hospital

09.05 – 09.35

Unusual presentaton of migraine

Prof. Kammant Phanthumchinda, MD.  ; Chulalongkorn University

09.40 – 10.10

Headache triage 

Sekh Thanprasertsuk, MD.

 

; Chulalongkorn University

10.15 – 10.45

Ocular manifestations in headache disorder

Natthapon Rattanathamsakul, MD.

 

; Siriraj Hospital

10.50 – 11.20

Pearl and pitfalls: neuroimaging in headache

Jitsupa Wongsripuemtet, MD.

 

; Siriraj Hospital

11.25 – 11.55

Headache pharmacology, drug interactions, cytochrome P450, and clinical implications 

Assoc. Prof. Chutamanee Suthisisang B.Pharm, Ph.D. ; Mahidol University

12.00 – 12.30

Resolved the unmet needs and treatment gap for patient with acute migraine attack 

Assoc. Prof. Chutamanee Suthisisang B.Pharm, Ph.D.

 

; Mahidol University
Flg. Off Kiratikorn Vongvaivanich MD., FRCPT, FAHS.

 

; Bangkok International Hospital

Sponsored symposium (Viatris Thailand Limited)

12.30 – 13.00

Lunch break
Afternoon

13.00 – 13.30

Integration of new migraine prophylaxis; the CGRP monoclonal antibody; from evidence to clinical practice

Flg. Off Kiratikorn Vongvaivanich MD., FRCPT, FAHS. ; Bangkok International Hospital

Sponsored symposium (Novartis (Thailand) Ltd)

13.35 – 14.05

Special consideration for migraine management in women 

Thaninjitra Poonpedpun, MD.

 

; Samitivej Hospital

14.10 – 14.40

Treatment of status migrainosus and in-patient migraine management 

Chakorn Chansakul MD.

 

; Bangkok International Hospital

14.45 – 15.15

Galcanezumab in the real-world: any difference from the clinical trials? 

Flg. Off Kiratikorn Vongvaivanich MD., FRCPT, FAHS. ; Bangkok International Hospital

Sponsored symposium (ZP THERAPEUTICS)

15.20 – 15.50

The current state of headache medicine 

Assist. Prof. Surat Tanprawet MD., MSc(London), FRCPT.

 

; Chiang Mai University

15.50 – 16.00

Q&A